Gruyères Castle is a famous castle in Switzerland. Constructed in the 13th century on the hill overlooking the landscape of Gruyères, it impresses with its architecture and reveals incredible views over the Swiss Alps.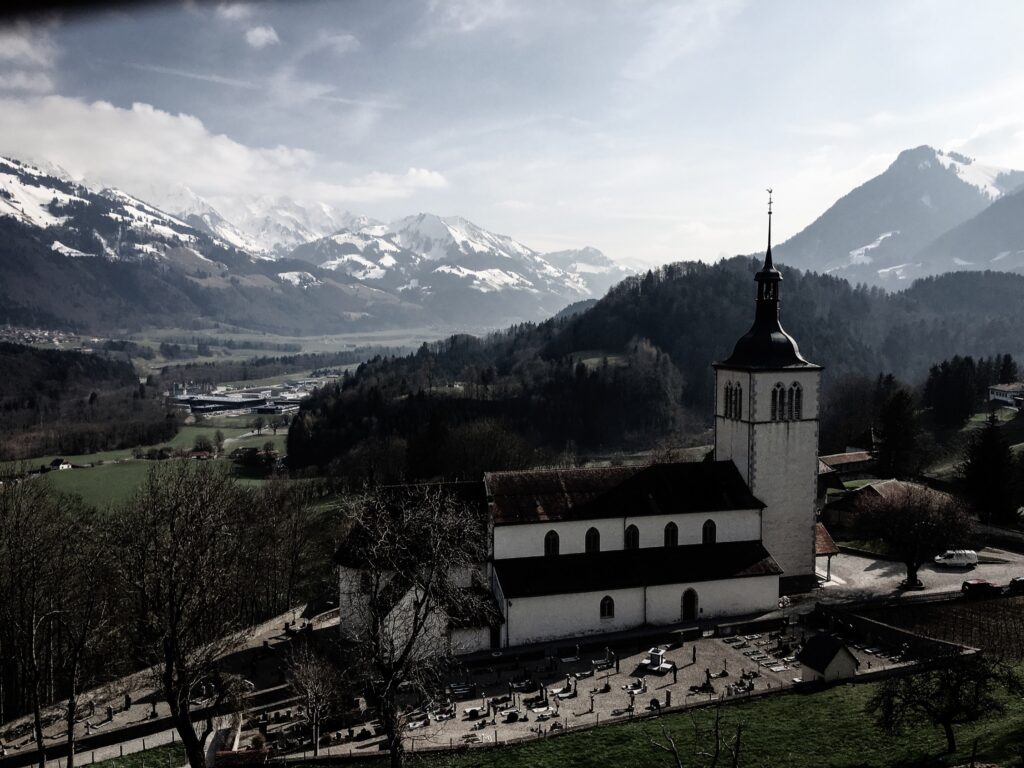 The castle was the residence of the Counts of Gruyère, one of the largest families of Western Switzerland during the Middle Ages.
Dynasty ruled the castle until the 16th century when its main creditors from Bern and Freiburg confiscated the property because of financial problems.
Nowadays, the mansion welcomes visitors to discover its history and enjoy regular art exhibitions. Once you enter its territory, you find yourself in a small village with its infrastructure, including small shops, hotels, bars and restaurants. Above the town stands the main historical building of the castle.
Good to know:
Getting there: from Zurich, by train, the journey would take around 2h20min. Zurich HB – Fribourg/Freiburg – Bulle – Gruyères. Even though it looks like many connections, train travel in Switzerland is very comfortable and efficient. However, if you prefer driving, the trip would take a bit longer than two hours. There are also several parking lots in Gruyères. Check the Google Maps below.
Opening hours: Apr-Oct 9:00 – 18:00. Nov – Mar: 10:00 – 17:00.
Prices:
Adults – 12 CHF
Combined tickets, Castle of Gruyères together with:
– Maison Du Gruyere – 16 CHF
– Musee H.R. Giger – 19 CHF
– Tibet Museum – 17 CHF
Besides the Medieval Castle itself, there are two other museums.
One is the Museum H.R. Giger, an extraordinary museum of the Swiss artist H.R. Giger, devoted to Aliens. Another one is the Tibet Museum, where one can enjoy Buddhist art and learn more about Tibet.
Furthermore, the Gruyères Castle displays eight centuries of fascinating turbulent history and the dramatic lifestyle of its owners. For almost five centuries, the counts of Gruyère rule the lands on both shores of the river Sarine. Also, some of them took part during the Hundred Years War and fought alongside the Confederates during the Burgundian Wars. The legendary dynasty died when Count Michel went bankrupt and lost the property in 1554 to Bern and Fribourg's creditors. Then there was a time of the bailiffs of Fribourg, and then the Bovy and Balland families from Geneva. Until finally, in 1938, the Canton of Fribourg repurchased it and opened it to the public.
It is also a great idea to combine your trip to the castle with the visit to the famous La Maison Du Gruyère cheese factory and the Maison Cailler chocolate factory.
Is this mansion on your bucket list? Please share with us your favourite castles in the comments box below.
Finally, if you have any questions, don't hesitate to contact me -> GET IN TOUCH
BE HEALTHY AND WEALTHY! :)