Snow Polo St. Moritz 2023 takes place on January 27, 29 and 29. This unique tournament takes place on a carefully prepared pitch on the frozen St. Moritz Lake, attracting thousands of spectators and international guests to experience its incredible atmosphere, beautiful wintery scenery of the frozen lake and the Alps, exciting sporting action along with exquisite entertainment.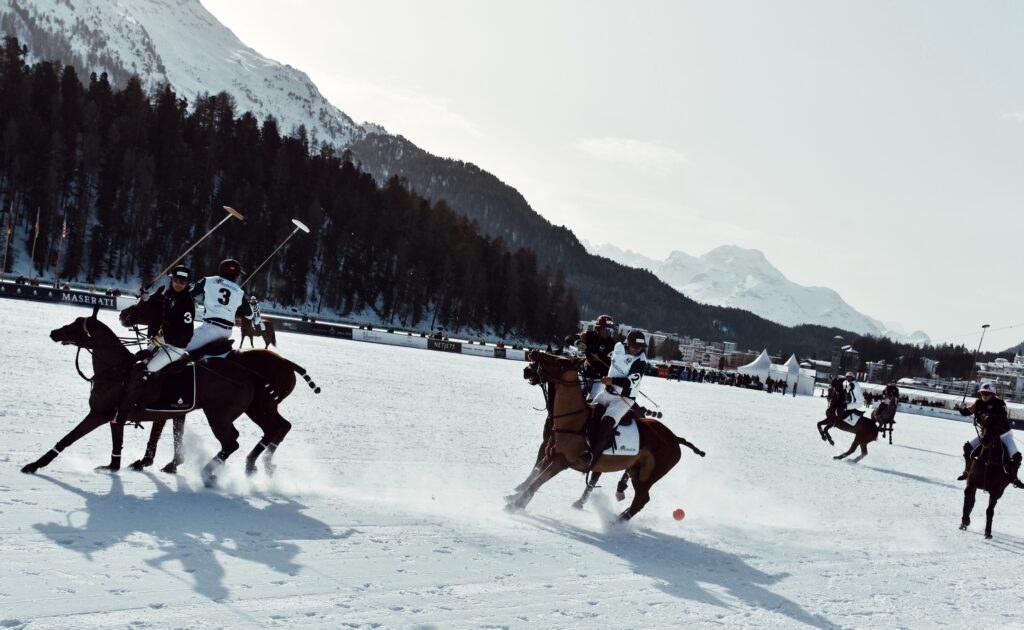 A Long-lasting tradition of Snow Polo
The Snow Polo World Cup has been a social highlight of the season in St. Moritz for the past few decades. Since the first days of the tournament in 1985, the frozen lake has been a centre of attention for top polo players, influencers and winter sports enthusiasts worldwide. As a fusion of sport and elegance, top-class polo meets first-class parties.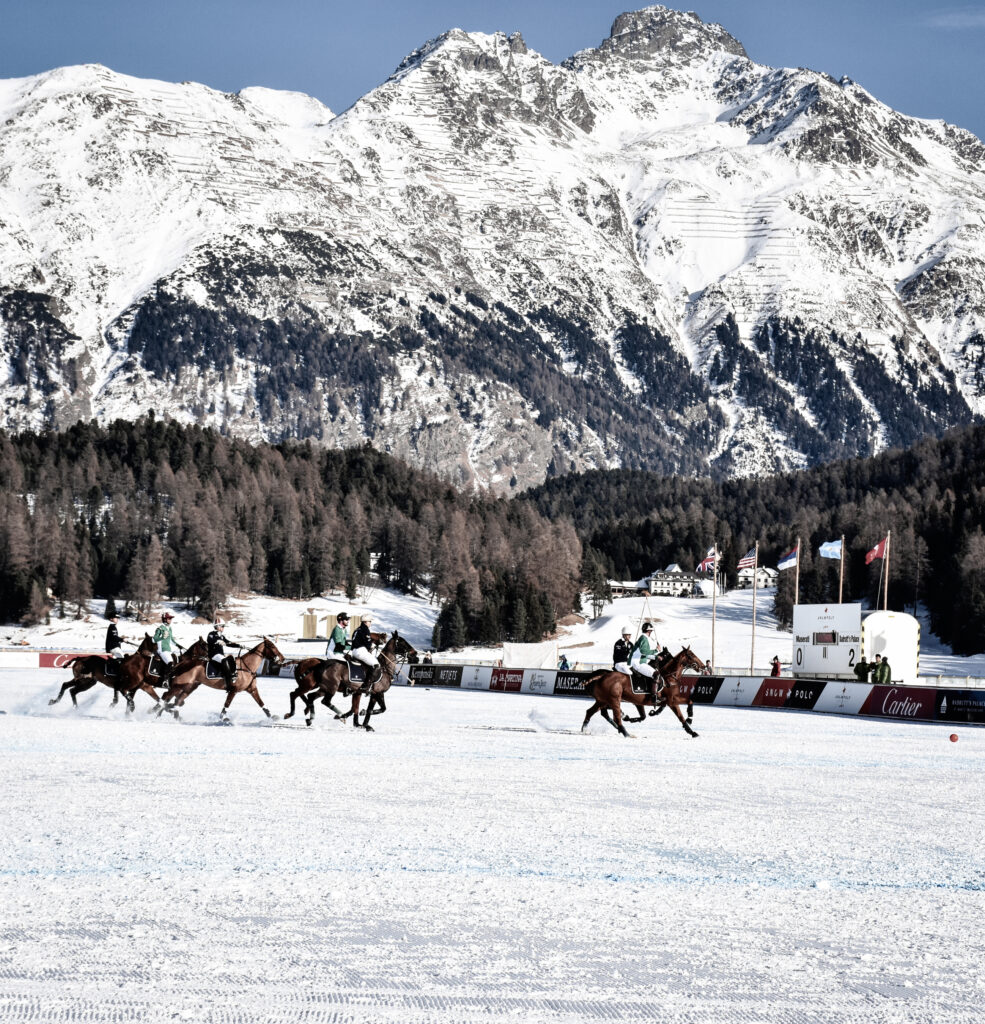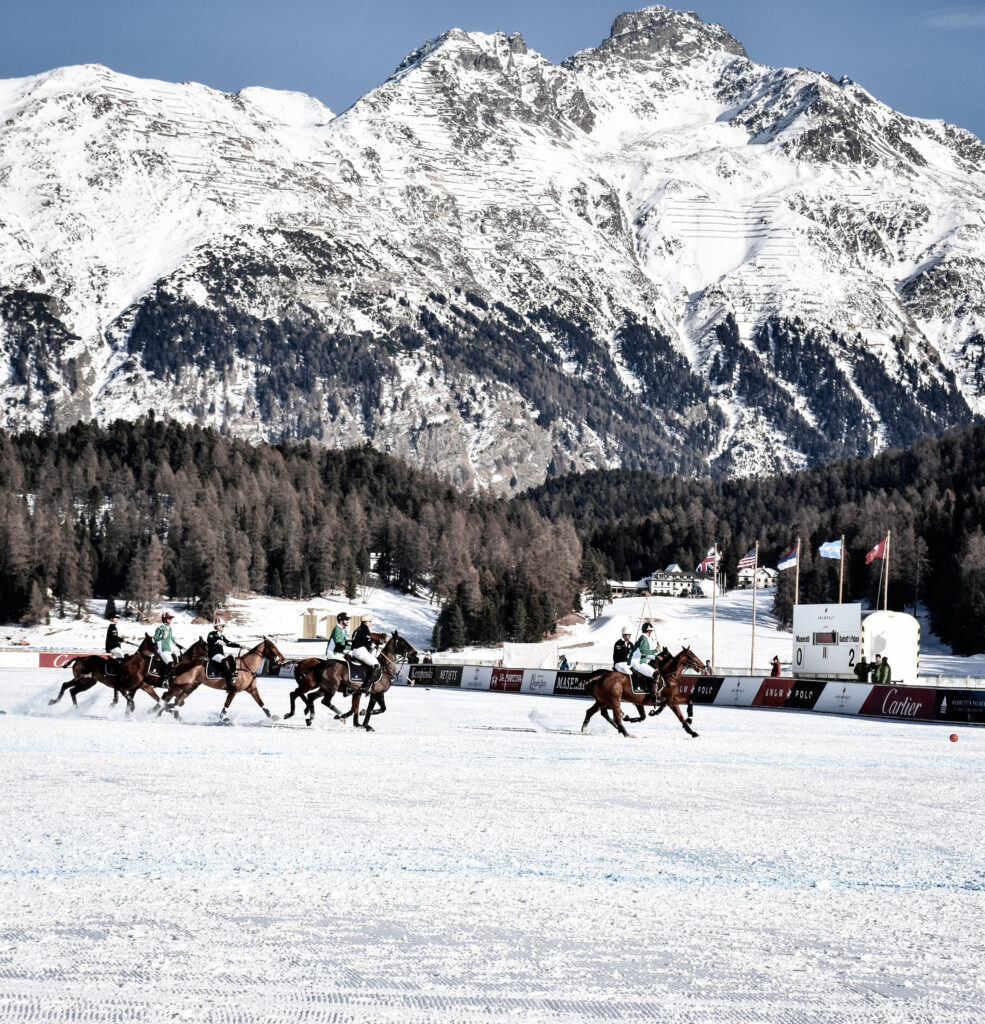 GOOD TO KNOW:
Dates: 27 – 29 of January 2023.
Location: the frozen lake of St. Moritz.
Tickets: Free entrance to the lake, including access to the stands.
Driving and parking on the lake are strictly prohibited.
The escalator from the top of the Serletta car parking (near Badrutt's Palace Hotel) to the lake is a convenient shortcut.
Besides Snow Polo, St. Moritz has a long history of hosting the most iconic sports events. In fact, shall you be interested to learn which ones and get inspired by incredible sceneries, check our article ST. MORITZ – THE SPIRIT OF EXCLUSIVE LUXURY AND THRILLING WINTER EVENTS.
For the lake to be ready for the tournament, the ice thickness must exceed 27 cm – once this thickness has been reached, the ice is tested by a heavy, 7,700 kg snow-groomer equipped with floating devices, after which the ice is given the green light for the construction work to commence. The ice in regularly checked throughout the construction phase, using ground-penetrating radar. Six teams of the highest calibre will compete in the world's most exclusive high-goal polo tournament on snow.
Unique horseshoes for the main superstars of the tournament
Around 120 polo ponies arrived from around Europe a couple of weeks before the event, giving them time to adapt to the high altitude and get acquainted with the snow. For that reason, they started with walks at first, moving on to gentle training sessions. The ponies also got special horseshoes with rubber tubing to funnel the snow out of the back of the shoe and studs to add traction, ensuring that ponies have a perfect grip during the matches on the hard-pressed snow.
We hope you got inspired by this beautiful and exciting tournament. If so, be sure to make a note for your calendar of The 39th Snow Polo World Cup St. Moritz on 26, 27 and 28 January 2024! And stay tuned to MonAme Magazine for all details!
Finally, if you have any questions, don't hesitate to contact us -> GET IN TOUCH.
BE HEALTHY AND WEALTHY! :)