Swiss Indoors Basel 2016 is an annual tennis tournament, taking place in Basel October 22 – 30, 2016.
This tennis tournament is one of the largest sport events in Switzerland, and one of the most significant indoor tournaments in the world.
Traditionally, the tournament started with the Official Draw Ceremony, which took place at the Basel City Hall on 22nd of October. When the draw distributed the players on the tournament grid, the most excited part has started – watching the matches and supporting favorite players.
Good to know:
Dates: October 22 – 30, 2016.
Location: Brüglingerstrasse 21, Basel, Switzerland.
How to get there: From Basel SBB (main station) – tram # 8, 10 or 11 till the Aeschenplatz tram stop, change line to tram #14 until the stop St. Jakobshalle.
The daily schedule and the matches timetable you can find here.
There is a wardrobe on the right side of the main entrance. The price for it is 3 CHF, cash only.
There are also a lot of restaurants, food and drink stands, sport cloth stores and other interesting activities in the Foyer of the St. Jakobshalle. Be sure to have some cash for that. Bellow you can check the picture of the stands location.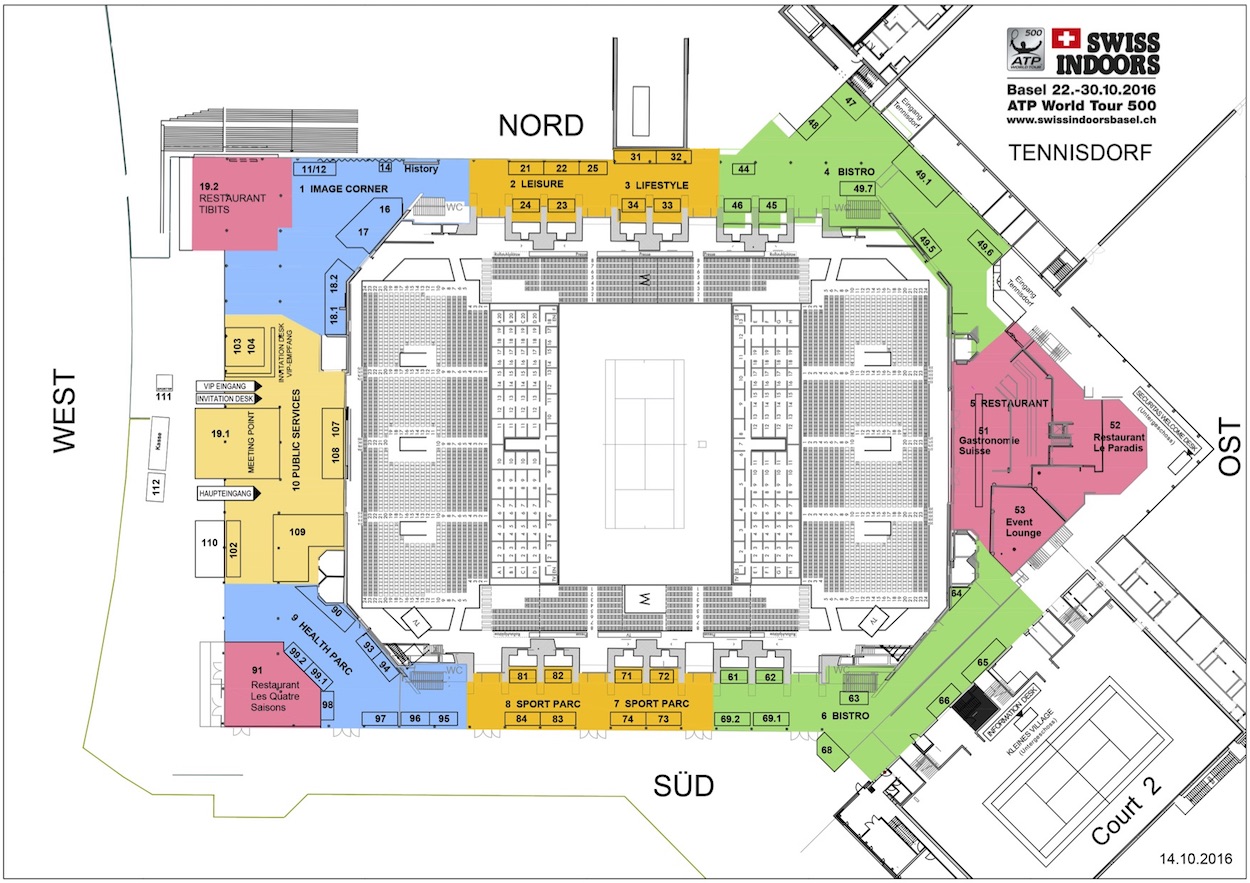 "Super Monday" of Swiss Indoors Basel 2016 took place on 24th of October.
"Super Monday" is an opening ceremony at the event. Sport events are traditionally accompanied by nice music and the opening ceremony of the Swiss Indoors Basel wasn't an exception. The tournament was opened by the performance of the Basel Sinfonietta and the British pop star Katherine Jenkins. The ceremony was great. However, announced opening match of Rafael Nadal didn't happen. As later I found out, Rafael Nadal had a wrist injury and had to cancel his participation. Nevertheless, I really enjoyed the match between Kei Nishikori vs Dusan Lajovic, which was held after the opening ceremony. During the intense game, both players had every chance of winning. But at the end, Kei Nishikori came out the winner!
Swiss Indoors Basel continues. Don't miss an opportunity to watch thrilled matches and support your favorite players.
Feel free to share your favourite moments, matches and players in the comments below.
If you have any questions, don't hesitate to contact me -> GET IN TOUCH
BE HEALTHY AND WEALTHY! :)