The Alpina Gstaad – mindful luxury and Alpine chic – is the first description that comes to mind when thinking about this exquisite 5-star hotel. Located on the hillside overlooking Gstaad, the resort offers a contemporary interpretation of authentic Swiss design, exclusive wellness, culinary and art experiences.
environmentally conscious design
At every detail, I could see the thoughtful commitment to the environment. From sustainable materials and electric vehicles to the zero-waste approach in the kitchen. It's all about attention to detail at this utterly luxurious hotel. The wow factor starts right at the lobby, with the old wooden ceiling above the main staircase along with captivating art pieces. The traditional Swiss architecture seamlessly continues through all 56 rooms and suites. I was fascinated by the craftsmanship and the rustic charm of the reclaimed timber from the local chalets used for interiors and exteriors. Also, charming farmhouse-style cupboards, vintage chests and accessories such as traditional leather raps to hold cowbells complete the elegant, authentic Alpine style.
Good to know:
The Alpina Gstaad is a Swiss luxury 5-star hotel located at the hilltop above the village Gstaad, in Saanenland, in the heart of the Bernese Alps.
Getting there: from Zurich by train or by car, it would take approx. 3 hours.
The 56 spacious rooms and suites – all with balconies – reflect how authenticity meets Swiss luxury. I have stayed in one out of 7 Grand Luxe Suites, a beautiful spacious room with a thoughtful coherence between design and environment.
There are also 25 Deluxe Rooms, 13 Junior Suites, 9 Deluxe Suites, 1 Chalet Suite, 1 Panorama Suite.
The hotel features an exclusive Six Senses Spa, the only one in Switzerland.
The Alpina Gstaad is also a place for cultural enrichment. You will find some inspiring art pieces throughout the resort. Thoughtfully placed, they not only look beautiful but also raise awareness about important social topics.
This luxury hotel has three gourmet restaurants. The restaurant SOMMET serves contemporary cuisine and has one Michelin star and 18/20 Gault Millau points. MEGU is a Japanese restaurant crowned with one Michelin star and 16/20 Gault Millau points. Finally, the traditional restaurant SWISS STÜBLI, with local specialities such as raclette and fondue.
Furthermore, there is a cosy bar-lounge, wine-tasting room, private cinema, cigar lounge, a ballroom and several boardrooms at your disposal.
The hotel is also pet-friendly.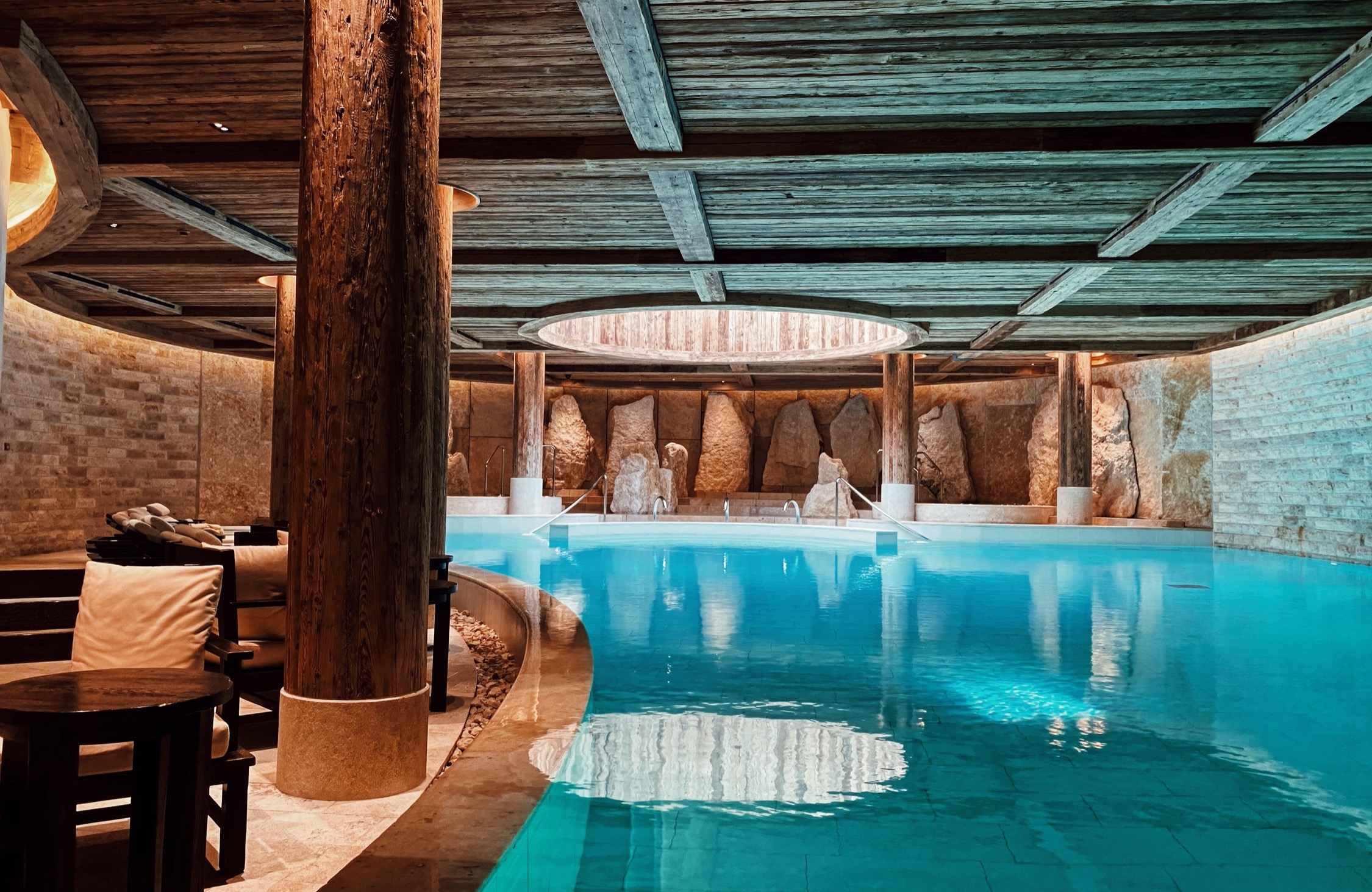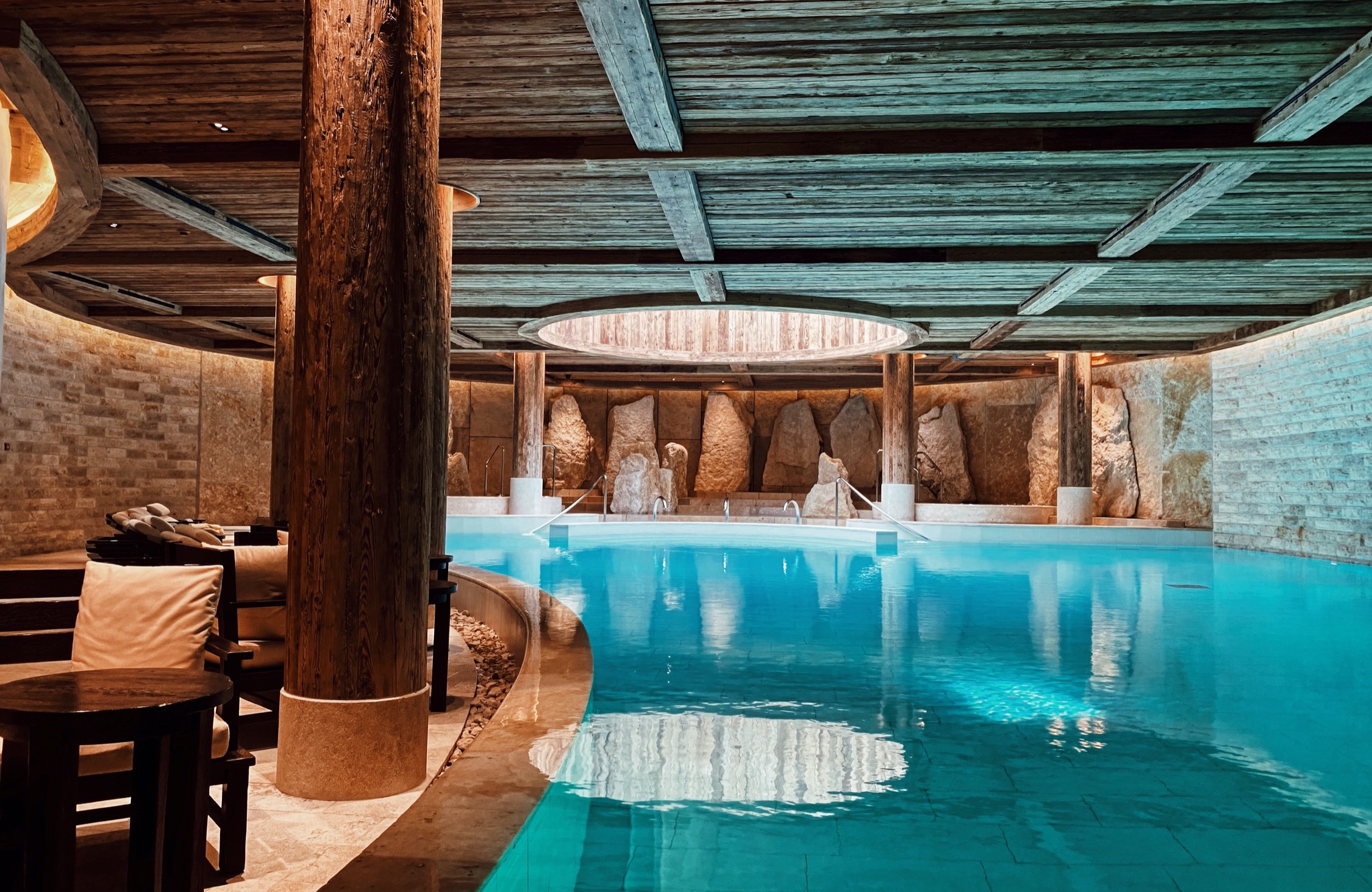 Tempel of WELLBEING at the SIX SENSES SPA
The only one in Switzerland, the Six Senses Spa, is a peaceful temple for harmonising the energy flow and rejuvenation. In fact, as a former medical doctor, I appreciate the complex approach to mindfulness-based stress reduction. It combines scientific advances in nutrition, skincare, fitness and neuroscience along with oriental philosophies. Inspired by Asian traditions, the spa features indoor and outdoor pools, Salt Room, Floatation Room, Hammam, Colonic Room, Colour Therapy Room, unique holistic treatments and personalised training programs. Furthermore, for even more profound reconnection between body and mind, during the winter season, the hotel offers several special programs like the Holistic Anti-Aging Program, Tibetan Healing Retreat, Light and Sound Healing, Yoga Sleep, Mountain Detox and Energy Healing.
Extraordinary Culinary and Art Experiences
When it comes to food for body and soul, the Alpina Gstaad has exceeded my expectations. There are three gourmet restaurants at the property. Each has its unique character while perfectly representing the original style of the hotel. The Executive Chef, Martin Göschel and his team, shook my taste buds up with his luscious creations. In addition, at the cosy bar-lounge I could enjoy a live piano music and a perfect serve of the Glenfiddich Grand Cru.
The exquisite art collection, installed throughout the hotel, is a true feast for eyes and soul. Many social projects constantly complement the stunning permanent art collection. Furthermore, the resort often hosts environmental forums, congresses and creative workshops.
It is not easy to provide impeccable service and at the same time be irresistibly down to earth. However, the Alpina Gstaad redefined luxury in hospitality and absolutely nailed it!
More information about availability and rates you can always find on the Alpina Gstaad official website.
Have you ever been at this luxurious resort?
Finally, if you have any questions, don't hesitate to contact us -> GET IN TOUCH.
Photocredit: Yuliia Caliskan / MonAme Magazine.
Be healthy and wealthy! :)