Our Zurich Christmas Markets 2022 includes a guide about dates, locations and good-to-knows. We hope it will help you plan safe and fun activities with friends and loved ones during this beautiful time of the year.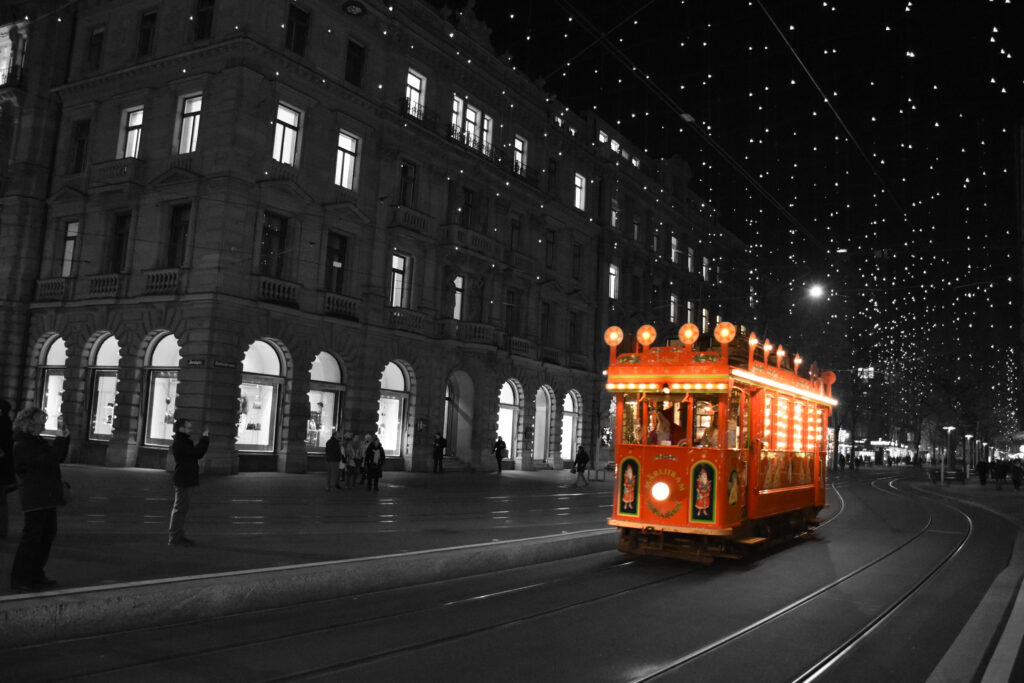 ILLUMINARIUM – THE LIGHT FESTIVAL AT THE NATIONAL MUSEUM – LANDESMUSEUM ZÜRICH
Fascinated illuminations and light shows are taking place in the inner courtyard of the Landesmuseum Zurich. It is like a tiny fairy realm of illusions and mysterious mythical creatures – a great place to meet friends for a glass of Glühwein or a magical show with kids. Besides many gastronomical treats and drinks, you can also have a cosy dinner at the fondue chalet.
Good to know:
Dates: 10 November – 30 December 2022.
Contactless payments.
Location: The inner courtyard Landesmuseum Zürich, Museumstrasse 2, 8001 Zürich, Switzerland.
Working hours: 17:00 to 24:00 daily.
Getting there: The museum is located just across from the central train station. By train to the Zurich main train station (Zürich Hauptbahnhof). Tram 4, 11, 13, 14, 17 or bus 46 to the "Zurich, Bahnhofquai / HB".
The Illuminarium is not suitable for people with photophobia.
ZURICH CHRISTKINDLIMARKT AT THE ZURICH MAIN TRAIN STATION.
The Christmas market at the Zurich Main Train Station is one of Europe's largest indoor Christmas markets. Its eye-catching signature – 15 meters high Swarovski Christmas Tree, decorated with over 7,000 crystal ornaments, welcomes everyone arriving in the city. The brightest tree ever! This Christmas village inside of the train station features around 140 Christmas huts with a wide choice of handcrafted toys, decorations, herbs, jams, spices, and of course, food and mulled wine. The market is a great meeting point for friends and families during the festive season. As soon as you arrive at the Train Station, you will feel the irresistible aroma of gingerbread and Glühwein. :)
Good To Know:
Dates: Daily, November 24 – December 24, 2022.
Contactless payments.
Opening Hours: Sunday to Wednesday – 11 am to 9 pm. Thursday to Saturday until 10 pm. Until 4 pm on December 24th.
Location: On the ground floor of Zürich Hauptbahnhof (Zurich Main Train Station).
THE CHRISTMAS VILLAGE IN FRONT OF THE OPERA HOUSE / ZÜRCHER «WIENACHTSDORF» AT SECHSELÄUTENPLATZ
During the holiday season, this cosy Christmas Village occupies the Sechseläutenplatz, just in front of the Opera House on Bellevue. It is one of Zurich's biggest Christmas markets and is one of our favourites. A beautiful Christmas Tree in the middle and over 100 huts around it all gathered together to form a festive spirit, including toy stores, exclusive decorations, food lodges and a cool Fondue-Chalet for a nice dinner with friends.
Good To Know:
Dates: November 24 – Desember 23, 2022.
Contactless payments.
Location: Sechseläutenplatz, in front of the Zurich Opera House.
Working hours:
The Christmas market: Mon-Sat 11:00 – 22:00; Sun 11:00 – 20:00.
The Chalet: Sun-Wed 11:00 – 23:00; Thur-Sat until 00:00.
CHRISTMAS IN ZURICH OLD TOWN
The market in the Old Town, on the Niederdorfstrasse, is the oldest Christmas market in Zurich. The Christmas lights on the old buildings and everywhere around tiny streets give the feeling of a fairytale. The market spreads between different streets and transforms the Old Town into a charming Christmas Town. Overall, a lovely place for walking and meeting with friends.
Good To Know:
Dates: November 24 – December 23, 2022.
Location: All around the Old Town – Grossmünster, Hirschenplatz, Mühlegasse, Rosenhof, Niederdorfstrasse, Zwingliplatz
Contactless payments.
Working hours: Mon-Thus 11:00 – 21:00. Fr-Sat 11:00 – 22:00. Sun 11:00 – 20:00.
Do not forget your face mask and to keep a social distancing.
THE CHRISTMAS SINGING TREE
The Christmas market at Werdmühleplatz is small but well-known for its Singing Christmas Tree. During the festive season, different choirs entertain with Christmas songs. And you can easily find the market and the tree from the Bahnhofstrasse (turn right before the MANGO store if going to the Hauptbahnhof direction). This year, the entrance only with the Covid certificate.
MÜNSTERHOF CHRISTMAS MARKET
Curated by the Fraumünster church and the traditional guild houses, this charming Christmas market focuses on local brands and high-quality products. It offers a perfect mix of traditional and modern goods and a memorable experience from the guided tours around Münsterhof.
Good To Know:
Dates: November 24 – December 24, 2022
Opening Hours: Mon-Sat 11 – 21:30; Sun 11 – 20.
Contactless payments.
Christmas in Zurich is a magical time of the year. It is a time of hope, joy and belief that the best is yet to come.
Finally, if you have any questions, don't hesitate to contact me -> GET IN TOUCH
BE HEALTHY AND WEALTHY! :)